Tea specialites by Rinama
Our fruit teas are as colourful and varied as a colourful orchard. The local fruits are joined by sun-drenched exotics that give the tea blends a special flavour. Hibiscus, verbena and lemon provide the tangy enjoyment.
All ingredients are harmoniously balanced and promise happy tea moments. In summer, our fruit teas are ideal as a cool iced tea, while in winter, Advent Blend, Winter Sun & Co. provide cosy warmth.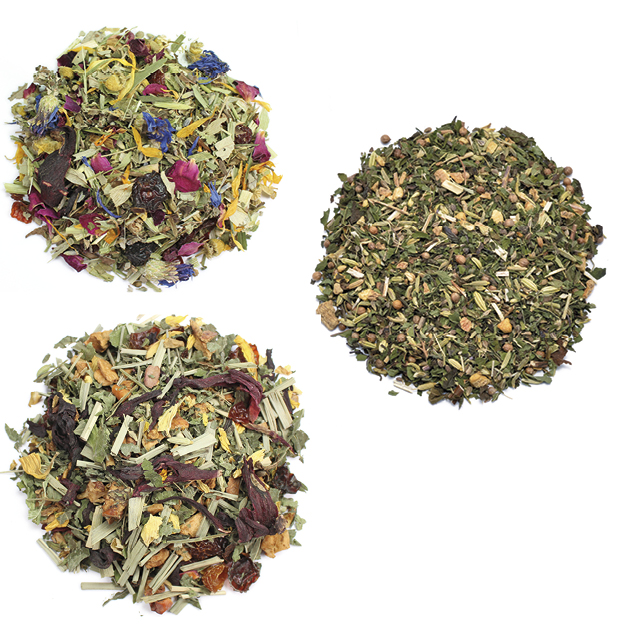 Our herbal teas and herbal blends offer you full flavour cup after cup. Each type of tea has a different natural effect: some are stimulating, others relaxing. Our teas with herbs taste good in hot and cold weather and even save unnecessary calories. That is why many herbal teas are excellent for tea fasting and interval fasting. As iced tea, they make a refreshing infusion.
Green teas are rich in valuable ingredients and can even help you lose weight. In Asia, the beneficial properties of green tea have been appreciated for thousands of years and are even said to have a healing effect. Our green teas come from the well-known cultivation areas in China, Taiwan and Japan and provide special tea moments.
In concentrated form, matcha powder is the basis for refreshing tea drinks and ideal for preparing matcha latte, smoothies and matcha lemonade. Cakes, ice cream and dressings can also be refined with matcha.
Our black teas inspire with their fine, appealing taste. In addition to the well-known black teas Assam, Darjeeling and Ceylon, you will find exquisite black teas for connoisseurs and delicate black tea blends. The special Pu-Erh tea is also available from us. It is a popular tea for fasting and purification cures and delights connoisseurs with its strong natural flavour.
Recharge your batteries with our feel-good teas. They are ideal for a short break in hectic everyday life and give you moments of relaxation. Discover our feel-good teas made from natural ingredients and pamper your body and senses. Alkaline herbal compositions with selected herbs support you in alkaline nutrition and help balance the acid-base balance.
May we introduce? Our spiced teas – spicy, invigorating and aromatic. All spice tea blends delight with inimitable taste and take you on a beguiling journey of the senses. Spices such as cardamom, cinnamon, chilli and coriander give the tea blends a particularly aromatic spiciness and are the perfect companion for a tea ceremony from 1001 Nights.
Rooibos tea delights with its mild, spicy taste and is considered the national drink in South Africa. This type of tea is also becoming more and more popular in this country. Rooibos is naturally caffeine-free and suitable for any time of day. Due to its high mineral content, rooibos tea is ideal as a thirst-quenching
is ideal as a thirst-quenching sports drink. If you like it exotic, go for our popular Rooibos tea blends with orange, peach or passion fruit.
Here you will find pure herbs that can be infused on their own.
Included are the healthy nettle, the soothing fennel and the vitamin C-rich rosehip. Chamomile, peppermint and sage are also very popular as mono-herbal teas. Enjoy your individual time-out with the gentle power of nature and choose your personal flavour just as you like. Sweet herb – stevia – is also included in our mono assortment.
Our tea blends are available in many different packaging
Please feel free to share your questions with us.
In order to be able to answer your enquiry quickly and specifically, we would ask you to tick the categories that apply to you.
As soon as we receive your enquiry, we will contact you immediately to clarify your needs personally and provide you with the best possible advice.
We look forward to hearing from you!